Spend some quality time on your motorcycle on a long-distance motorcycle tour. Our do-it-yourself motorcycle tours are a great way to explore new roads. You pick the roads to ride. You pick the dates you want to go. What we do is move your bike to the starting point of your trip. We will have your motorcycle waiting for you in the warehouse near the airport you fly into. You take a cab from the airport to the warehouse and you are riding the same day. You will have an amazing ride from the first mile at the starting point. You can ride home or ride to where ever you like, it's up to you. We ship your bike to places that it would take you many days to get to. You can also ride to far away destination points and we can pick up your motorcycle at the end of the ride and ship it back home.
For example, let's say you have a group of riders in Albuquerque NM and want to ride in Alaska. We can ship your bikes up to Alaska to start your epic journey. You fly up there, take a cab to the warehouse and begin your journey fresh and ready to ride in Alaska the very first mile. Then you ride down to maybe Seattle or Portland and drop off your bikes a week later to the nearest warehouse. We pick up your bikes and deliver them back home. You only spend time on the roads you like, not spending extra days on a boring freeway getting to the good roads.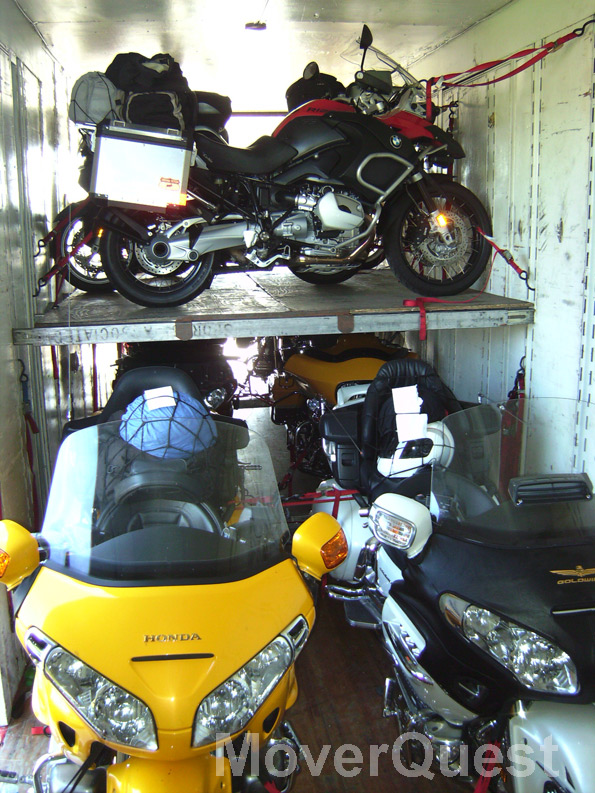 The photo above is from a motorcycle tour we put together going from Albuquerque NM to Anchorage AK. All the motorcycles have their riding gear loaded up and ready to ride. We dropped them off at the warehouse in Anchorage, and they took 11 days to ride back to Albuquerque. They said it was an incredible trip.
By the way, when you send a group of motorcycles like this, the price for shipping each motorcycle is a lot less than the cost for shipping just one. If you have gotten a quote to ship one bike, and you are part of a group, we should give you a quote to move the entire group. In the Anchorage trip, they shipped 16 motorcycles. We were able to get a truck just for their bikes only. Check out the truck we got for their trip!
Here is the list of warehouse locations we can use for drop off or pick up.
Tempe (Phoenix) AZ
Sacramento, CA
San Jose, CA
San Diego is actually in Poway, CA
Los Angeles is Santa Fe Springs, CA
Denver, CO
New Britain, CT
Orlando, FL
Pompano Beach, FL
Tampa, FL
Atlanta, GA
Boise, ID
Romeoville, IL 60446
Iowa City, IA
Jessup, MD
Lowell, MA
Taylor, MI
Roseville, MN
Earth City, MO
Billings, MT
Las Vega, NV
Monroe Township, NJ 08831
Albuquerque, NM
Brockport, NY
Morrisville, NC 27560
Columbus, OH
Tualatin, OR…….near Portland
Telford, PA 18969
Freedom, PA 15042
Nashville, TN
Dallas, TX
Houston, TX
Salt Lake City, UT
Tacoma, WA
Spokane, WA